Evolutionary Astrology: Practical Answers for Deep Soul Growth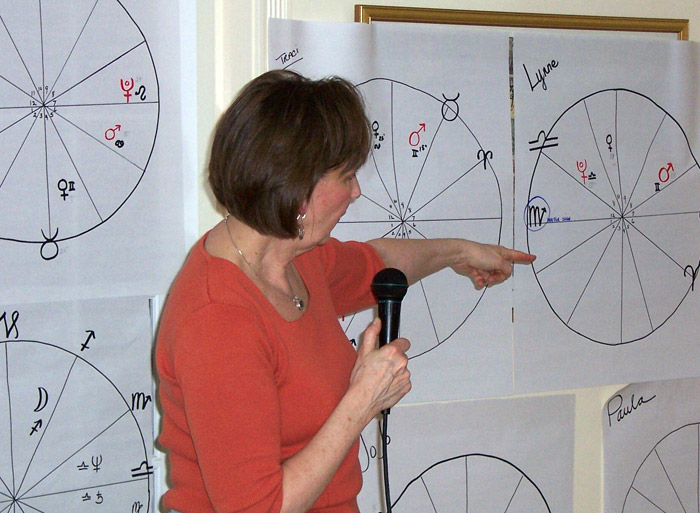 I have conscientiously practiced astrology since 1980 in order to understand who, how and why I AM!  The particular branch of astrology that I choose to practice is Evolutionary Astrology, fathered by Jeffrey Wolf Green. I continue to be a student of this school for EA has been the one branch of astrology that has spoken volumes to me about the path of the Soul.
If having your astrological chart interpreted is something that you are called to do, I will compassionately and empathically facilitate that process and applaud your desires and efforts to learn more about your Self by honoring your chart, your time in session with me and the information that we share with together.
The following information is necessary in order to cast and interpret a chart. Please provide this information when you contact me for a reading.
Your Name
Exact DATE of your birth
Exact TIME of your birth
Exact PLACE of your birth
Briefly state what you are looking for from this reading.
Reading Options
Purchase Readings Testimonials
COMPLETE NATAL CHART READING – $100.00
Explains what you came into this lifetime to accomplish on a Soul level. This reading shows how each of your planets facilitates that Soul desire. It also informs you about the emotional wounding that you brought with you from other lifetimes or simply from the past in this lifetime, that prevents you from moving forward in any of the 12 areas of life indicated in your chart. This reading lasts for 60-75 minutes by phone (client calls me). A full reading revolves around why the Soul incarnates into the conditions it does and how the planets support that theme.


COMPLETE NATAL CHART READING during the month of your birth, with coupon – $90.00
Only for "FIRST-TIME" Natal Chart Clients. If you've never had your astrology chart done by me, and would like a reading, call during the month of your Birthday and mention the coupon at the end of the newsletter to receive $10.00 off your natal chart reading. The reading can be scheduled for the next month.


PROGRESSED CHART READING – $75.00
This reading gives us information on a more internal and subjective level, which involves our attitudes and approaches to the energies influencing us regarding the outer circumstances that may be happening presently or circumstances 1-2 years out.


SOLAR RETURN READING – 50-60 minute reading; $75.00
Another layer of information juxtaposed upon your Natal Chart explaining what the energies will be for you for the next year. This reading is done close to your next birthday or one month before or after your next birthday.


POST-NATAL CHART READING – 20-minute reading; $25.00
This is a "follow up" reading should you have questions after listening to your Natal Chart recording. This reading may clarify a point in question once you've had the opportunity to listen fully to the Natal chart reading.


SPECIFIC READING AROUND A CERTAIN ISSUE – 30-minute reading; $40.00
Relationship issues, Love issues, work/profession issues, Issues around  Soul work and becoming more of who you incarnated to become.
I do all readings by phone or e-mail.
I have conducted introductory workshops and classes on Astrology, taught classes about the basics of oracle card and Tarot interpretation and have held classes on dream interpretation. 
People request Astrology readings as well as Oracle and Tarot card readings when they need a clear answers and insights into their personal dilemmas or queries and many times, I combine astrology readings and a card reading for deeper and clearer answers.
Evolution takes place second by second.  It's never too late to desire to know your Self more and more. EA and Oracle Insights will bring you home to your Self, but first, you must open the door to your mind and heart in order to make space and welcome in this wonderful and life-changing information.