Oracle Insights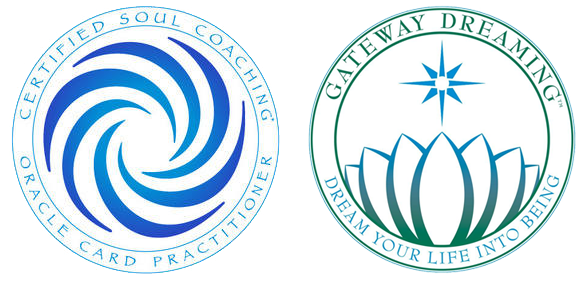 Victoria Anne Schneider
Certified Tarot and Oracle Card Practitioner
Professional Master Level
Certified through Denise Linn's SOUL COACHING® ORACLE CARD READING

Certified Gateway Dreaming Practitioner
Tarot and Oracle Card Readings
What is it that you want to know? An Oracle Card reading is an incredible medium to find your answer!
An ORACLE is something or someone or some place that provides an answer to a question that the "querent" (questioner) would ask. An ORACLE is something that has a message specifically for you.
A philosophy that I've carried for my entire life, has been: "Let EVERYTHING be your oracle."
Every person, place, thing concept, idea - has a reason for being and is in your life at a particular time for a purpose.
I use many different decks of cards for my readings. Various and diverse decks draw my attention for certain questions or with particular people. Two people may ask the same question and I will use two completely different decks simply because the energy involved changes with each person and reading.
Preparing your question(s) is KEY. My readings go deeply into the question. If you find that you are having trouble phrasing the question, we'll talk about your particular concern, and I will then help you "re-phrase" your question(s) so that the results of the reading are as clear as possible.
It is best to phrase your questions beginning with the "What can I…" or "How should I…" phrase approach rather than ask a question to which "YES" or "NO" is the answer; however, having said that, I have had GREAT SUCCESS personally, with questions that could end in yes or no. The ORACLE CARD in and of itself, speaks loudly and clearly.
ORACLE READERS have been with humanity since time immemorial The ancients used the stars, twigs, tea leaves and bones to facilitate conveyance of messages for their time. ORACLE CARD readings are revealing, pertinent, timely and gratifying in that they answer the deeper questions of life that come from the Soul. They "hit the Wisdom spot" of the Soul that longs to know the truth.
Readings offered by phone, via E-mail or Facebook Message.
TAROT READINGS vary in time depending upon which reading you choose to focus on. Three card readings last about 20 minutes by phone, or the answer can simply and easily be sent via e-mail to the client.  I offer several different kinds of ORACLE CARD  and TAROT readings after the client has contacted me and  has submitted her/his question.  I will then respond via a particular card layout.  I intuitively choose the spread according to the question. 
***PLEASE DESIGNATE WHEN YOU CONTACT ME, WHICH READING YOU PREFER. THERE ARE SEVERAL FROM WHICH TO CHOOSE!  IF YOU DO NOT SPECIFY, I WILL CHOOSE A READING FOR NO MORE THAN $35.00.  THIS WILL BE A 20-MINUTE READING!
Card Reading Options
From the following card layouts, you may choose one of these or I will be happy to choose one that fits your question.  If you choose the layout, please note that in the "Directions" section of PAYPAL when you purchase the reading. Otherwise, I'll choose the card layout for the reading.
Purchase Readings Testimonials
CARD READING OPTIONS are as follows:
CROSS of TRUTH – 20-minute reading; $35.00
A simple and direct reading, each card relating to the central card which represents the issue.


ROOT of the PROBLEM – 20-minute reading; $35.00 (Nice general reading)
Asks questions about the problem to ferret out its roots.


ALL PURPOSE – 20-minute reading; $35.00
These are 3 cards spreads: (body-mind-spirit; past-present-future; etc.)


MESSAGES FROM SPIRIT – 20-minute reading; $35.00
A 5-card reading  with the center card signifying YOU with surrounding cards containing messages from angels, guides/guardians, ancestors and Earth elements.


FOUR CHAMBERS OF THE HEART – 20-minute reading; $35.00 (good for relationships)
This reading uses only the Tarot's Minor Arcana to give insight into what's blocking the receipt of love.


WHAT NOW – 20-minute reading; $35.00
What are you learning from where you are now and where are you going?


TIBETEN BOOK of the DEAD – 20-minute; $35.00 or 40-minute reading; $55.00.  YOU CHOOSE!
Based on the 5 principles of a fully awakened consciousness. Each principle is invoked in this reading.


FIND YOUR VOICE – 45-minute reading; $55.00
This reading is about finding and recognizing your Authentic Self; your True North.


JUNGIAN ARCHETYPE PERSONALITY LAYOUT – Who are YOU? 60-minute reading; $75.00
This is a 12-card spread, which delves into 12 archetypes (templates, models) and inquires through the cards how you are fleshing these archetypes out in real time. It's quite a fascinating and enlightening reading.


DREAM INTERPRETATION – 60 minute reading; $75.00
This reading delves into the symbols in your dream that speak most loudly to you. (Please e-mail me a type-written description of your dream, in advance of the reading, so that I can take a look at it prior to our phone consult.)  Have a copy of that dream with you during the reading so that we can discuss the dream together and then move into the interpretive reading of the dream.